About Us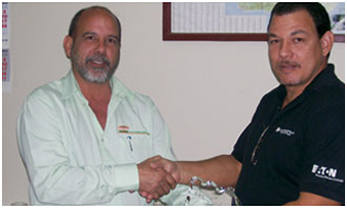 L to R: Managing Director of Caribbean Cable Company, Ariel Roman Colina presenting award for outstanding patronage to LS Duhaney and Co. Ltd Managing Director, David Sherman.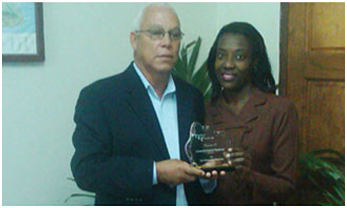 Levon Electrical Managing Director, Evon Redman receiving award from Ann Marie Blair for outstanding patronage.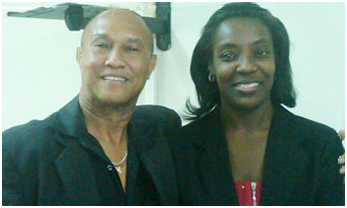 The Sales Department team at Caribbean Cable – Michael Thomas and Ann Marie Blair.
The operation began in 1966 as BICC (Caribbean Ltd.) In 1990, as a result of a management buy-out, we became fully Jamaican owned, registered and trading under the new name Caribbean Cable Company Limited (CCC). For over 48 years, we and our cables have been making good connections all around the Caribbean.
As a manufacturer within Caricom, we serve the region we intimately know and understand and share the economic edge this gives us. Our cables for industrial and domestic use cover a comprehensive range of building wires, low voltage power cables (PVC and XLPE) insulated and flexible cords.
All are approved by the Bureau of Standards Jamaica (BSJ) and fully comply with the appropriate British Standard (BS) and Underwriter Laboratories (UL) standard specifications. Our 68,000 sq. ft. factory in Old Harbour, St. Catherine, Jamaica, is equipped for wire drawing, bunching, extrusion and reeling.
Below are our following distributors:
ABC ELECTRICAL SALES
ATLANTIC INDUSTRIAL ELECTRIC SUPPLY CO. LTD.
CESCO LIMITED
DUNN'S ELECTRICAL & LIGHTING
ENERBIZ LTD.
GENERAL SUPPLIES LTD.
HARDWARE EXPRESS LTD.
LEVON ELECTRICAL & HARDWARE LTD.
LS DUHANEY & CO. LTD.
THE ELECTRICAL DEPOT LTD.
WILSON CHUNG & SONS BUILDING SUPPLIES LTD.
Due to the specialized nature of our operations we have a policy of on the job continuous training not only in cable making, but also in the standards to which we are committed. In spite of the recessionary trend and competition from the rest of the world, we continue to hold our own because of our commitment to the highest standard of products and customer service.